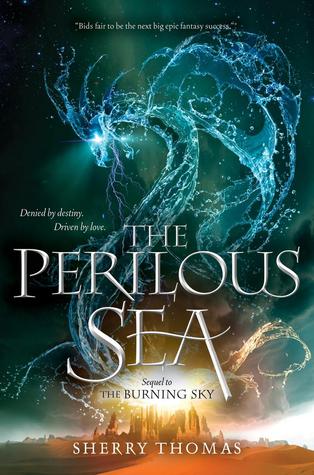 Title:The Perilous Sea
Author:Sherry Thomas
Published:16th September 2014
My Rating: 5/5
Recommend:Yes
Synopsis:
After spending the summer away from each other, Titus and Iolanthe (still disguised as Archer Fairfax) are eager to return to Eton College to resume their training to fight the Bane. Although no longer bound to Titus by a blood oath, Iolanthe is more committed than ever to fulfilling her destiny—especially with the agents of Atlantis quickly closing in.

Soon after arriving at school, though, Titus makes a shocking discovery, one that makes him question everything he previously believed about their mission. Faced with this devastating realization, Iolanthe is forced to come to terms with her new role, while Titus must choose between following his mother's prophecies—and forging a divergent path to an unknowable future.
It is so unfair, this cover!!!!
O-M-G!!!! I am literally crying with happiness, joy, shock and sadness! LIKE OHMYGOSH!!!! I cannot believe that happened




It is insane the emotions raging inside of me, when I read the first chapter I was like huh? I am reading the right book? What is going on? You only realise what is happening once you start reading the book and everything falls in to place! Then your like 'oh, now I see what's happening! Now I get it!!!' It was a EUREKA moment.

What do I say about this book? It absolutely amazing, I knew I would love this series once I fell in love with the covers of the books! I mean look at the cover and tell me it's not worth dying for? :)

Is it possible to fall in love with Titus anymore than I already do? If I adored him before, I absolutely love him to death and back now! Possibly more than life now! And oh the romance in this book between him and Iolanthe is astonishing, the author did an amazing job! The plot was mindblowing, it kept me in suspense from the first page! :) Alot more action in this book, and I mean ALOT more!

We definitely see Bane more in this one, and a few things come to light aswell! BUT OMG!! I never thought Bane as the cunniving one, I mean come on I could tell in the book that he radiated power and was probably one of the most powerful but still. I have a sense of foreboding and I think there is a connection between him and Titus something I am moe confident now that I have read this book. I started forming this theory in the first book when they first mention Titus' father!





These pics are awesome right? This is how I would sum up the book if I have to