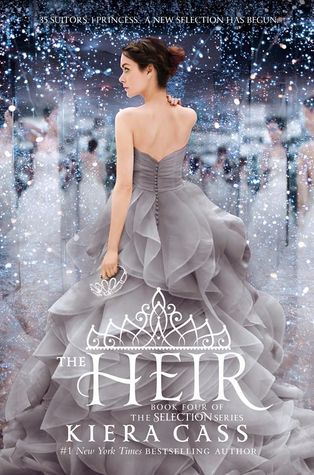 Title: The Heir
Author: Kiera Cass
Published: 5th May 2015
My Rating: 5/5
Recommend: Yes
Synopsis:
Princess Eadlyn has grown up hearing endless stories about how her mother and father met. Twenty years ago, America Singer entered the Selection and won the heart of Prince Maxon—and they lived happily ever after. Eadlyn has always found their fairy-tale story romantic, but she has no interest in trying to repeat it. If it were up to her, she'd put off marriage for as long as possible.

But a princess's life is never entirely her own, and Eadlyn can't escape her very own Selection—no matter how fervently she protests.

Eadlyn doesn't expect her story to end in romance. But as the competition begins, one entry may just capture Eadlyn's heart, showing her all the possibilities that lie in front of her . . . and proving that finding her own happily ever after isn't as impossible as she's always thought.
On a note, can be we please take a moment and notice this beautiful cover? I love this even before the book!

I received this book in an exchange for an honest review, thanks to Netgalley and Harpercollins


O-M-G! I am in tears!!! :'(. This literally broke my heart! What am I supposed to feel?


Everything literally hurts!!! I want to cry and scream in agony. Why did you do this Kiera? Why???? I cannot even begin to imagine what will happen in the next book but you cannot take away the character that made me fall in love with your writing and series! Please! That is such a heinous crime! It should be outlawed! And why did you do that Ahren!? Why? Did you not think of what would happen to your family? Your beloved twin sister? And parents?


There is so much turmoil going around at the moment, it took me a long time to get in to this book. Eadlyn is not like her mother, America. She is appeared to be selfish, rude, independant and heartless. But she is alot like America in the sense that she is stubborn and would go to any lengths for her loved ones. I must admit, it was hard to like Eadlyn all you could read about her was her complaining about something, it was never seeing something from a different perspective even if there were things that were hinted at her. It was always a incident that challenged her way of thinking. But it was good to see her change a little bit and soften a bit in her taking part in the selection and finally opening her eyes!


I have to say, I still am in complete love with Maxon and America, the fact that we as readers are privy to what happened with their love story is like we are part of the story and know the inside joke. I relish that feeling and love it! Please don't make this go away!


Out of the selection, it is hard to choose who is my favourite and who to root for. But it has to be either; Hale, Kile or Henri (I secretly think Erik might be crushing on Eadlyn, but who knows!)


But it is a definitely a recommendation to read and such a joy!